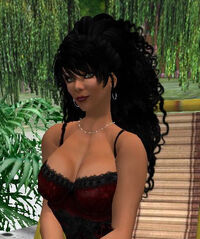 Yxes Delacroix (Rezzed May 3rd, 2006) is a Podcaster and a Producer for Treet.TV who has helped produce many notable shows such as Tonight Live and Metanomics.
About
Yxes Delacroix joined Second Life in 2006 when the podcasting scene discovered the virtual world of Second Life.
Podcasting
Yxes started podcasting in 2006 with Banana Stein on the popular show The Goddess and Banana. It was one of the most popular audio shows in Second Life of its time.
She later went on to join The Podmafia Podcast in August 2007 and still is co-hosting on the show each week.
Treet.TV
When Tonight Live started being produced in 2007, Yxes was one of the original producers behind one of the most successful talk shows in Second Life. Other shows she has been involved in include, Metanomics, The 1st Question and MODA Fashion Spotlight.
External Links
Community content is available under
CC-BY-SA
unless otherwise noted.