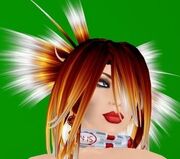 Veyron Supercharge (November 2006) is a model and blogger in Second Life.
She is a well known model and popular blogger who has an excellent fashion sense and one of the most beautiful avatars in Second Life. She is also a notorious flirt and charmer. She is fairly willing to help most anyone out with most problems and tends to be approachable if talked to nicely.
She has also been known to lurk in Plurk, flirting with other avatars from Second Life there.
Her secret hero in Second Life is TheDiva Rockin, whom she admires for a number of reasons.
Veyron has been known to play in the City of Lost Angels Second Life free form roleplaying game, along with Tiessa Montgolfier. She runs a sim in the a City of Lost Angels, Rampart. They are both members of The Brood faction. Her character in the City of Lost Angels is a fallen angel. In character she can be fairly psychotic, violent and evil. She is very loyal to the Queen of the Brood, Charissa Korvin.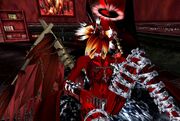 External Links