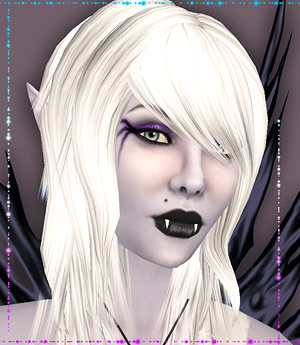 Sezmra Svarog landed quite abruptly in Second Life on July 8th, 2004. It only took her a few days to discover the wonders of content creation, and, being a self-taught artist, she quickly jumped at the chance to own a fashion business. Sometime in late 2004, Sezmra Svarog added "Skins" to her repertoire; Nora BodySkins & Fashions became the official name of her little shop. Kimmera Madison is entirely to blame for this evolution, having hired Sezmra for a custom skin. Over the next few years, Sezmra Svarog would continue designing skins for women, men, and fantasy figures. It was a long, passionate era in her Second Life.
In 2008, she admitted to growing weary of being a businesswoman, but still wanted to create content for Second Life users. As the "Grid" opened up to projects such as OpenSim and OpenLife, Sezmra realized that it was part of her duty to open up content as well. It is her opinion that we, as avatars, are pioneers of this virtual landscape, and that donating content can only benefit the community as a whole. In September of 2008, after the close of Nora, she released what she considers to be her best female skin design yet; for free use. She made them available both as free skins found on the official Second Life grid, and as .PSD files from her website, http://www.sezmra.com.
Currently, she lurks about her own SIM TwentyOne, IRC on EFNET, Plurk, and can be found DJing in-world for RadioRadio, weekly.