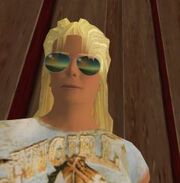 Prokofy Neva is a mentally unstable SL resident, dictating the land rental business Ravenglass Rentals. He/she is also known for posting controversial and frankly preposterous viewpoints on its blog (see links) and various Second Life-related forums.
Background
Prokofy Neva has identified herself, both at Second Life and in real life media, as Catherine A. Fitzpatrick (born 1956), a translator of Russian from New York[1][2]. Despite being female, she has chosen to play a young-looking male avatar. She has told the New York Times that she "doesn't really care about how her avatar looks".
History
Prokofy was previously a resident of The Sims Online city Alphaville where he used the name Dyerbrook.
She was banned from all areas of the official Second Life forums except Classifieds in June 2005, and banned from the official Second Life blog in November 2006.
Prokofy has been involved in a feud with the Woodbury University group for several years. She maintains a blog where she usually blogs about the alleged griefers every day. Prokofy has been accused of harassing people both at Second Life and in real life. Woodbury use to own a small parcel surrounded by Prokofy's Ravenglass property (SLURL).
Concepts
Prokofy is the originator of the concept of a Feted Inner Core in Second Life (New Word Notes analysis).
Prokofy and the History wiki
Prokofy declines to contribute to the SL History Wiki, complaining about the "little clique of 'historians'" that would make it a "fool's errand" to provide her side of the story.[3]
External Links