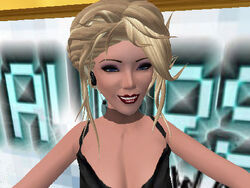 Phaylen is one of Second Life's oldest residents, born in December 2002. She, following Kirsten Taylor, was one of the first to design womens avatar fashions using primitive objects. This became her niche and eventually evolved into high concept fashion designs. Her work was featured in the Warcry Article and interview with Robin Linden.
Phaylen also developed and hosted Second Life's very first immersive Role Playing event in which she sent players on a search across the sims to Save Wonderland. Featuring a cast of interactive characters like The Caterpillar, The White Rabbit and The Cheshire Cat, the highlight of this event was Jennifer Linden's portrayal of The Queen Of Hearts, wherein players were directed to defeat her upon the Catwalks of the Rizal Sports Arena and remove her from her reign using weapons provided... but this character fought back.
Since then, Phaylen has been an advocate for community interaction and support in Second Life, having been a mentor, instructor, and consistant event coordinator. Her latest endeavor, the first annual 2006 Metaverse Awards was instituted to honor the many talented individuals and contributors who make Second Life the amazing virtual reality environment it has become. In this, she brought together people from all walks of Second Life and invited renowned digital artist T. King to concieve and design the award distributed to those nominated and voted for by the community at large.