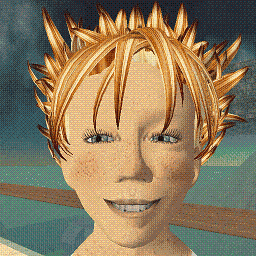 Hi! I'm Neo. I started out in Second Life a loooooong time ago (like more than two years ago! back in April 2004) as a punk half-elf, but I decided I wanted to be a kid again, so here I am! I live in FairChang Island in a big boat with my mom'n'dad, Garth and Pituca FairChang. You can see their webstuff at FairChang Engineering. I'm 12, almost 13, and my birthday is in April, and I hope I get a car next year! :)
I like to build big buildings and make stuff like clocks and clothes and stuff. If you want, you can see some of my stuff that I make and sell. I'll also make a custom clock just for you!
My bestest friends in the whole virtual world are Gemini Enfield, Seth Mandelbrot, Ribblet Newt, and Dayvid Orman. Hi guys! :)
Anyway, you're prolly bored of listening to me babble, so I'll shut up now. Thanks for coming by!