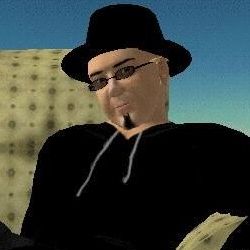 Lordfly Digeridoo is a resident of Second Life, having existed since July 21, 2003. This puts him squarely in the "oldbies" category of residents, having been around about a week before the release of 1.1.
Over the past three years, Lordfly has accumulated a huge array of finished architecture work, ranging from simple single-avatar homes (such as Defiance, originally in the Hooper Sim, now owned and lived in by Spin Martin on Slackstreet) to public institutions (the Gualala Public Library, since retooled to be a welcome area for new Teen Grid graduates entering the Main Grid and the Grignano Public Art Museum, showcasing resident artwork) to entire sim-wide plans. He estimates he has completed over 70 jobs for various people. One of his largest, Tokachi City, is a 16-acre private sim, set in an urban environment, for the design group NinjaWeasel Studios.
Lordfly is also a contributor to Secondcast.
Lordfly currently is a contracted designer with Millions of Us, one of the largest companies doing business solely within Second Life. He has helped on various projects for them including Toyota, Warner Bros, Cnet, and Pontiac, using his keen insight into spatial relationships within SL to build their clients wonderful spaces.
In real life, Lordfly is an avid bicyclist, cook, and student at Eastern Michigan University, majoring in Urban/Regional Planning and minoring in Geographical Information Systems (or as he says at parties, "majoring in Simcity and minoring in Google Earth.")