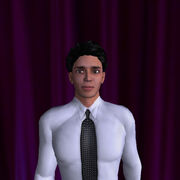 Johnny Ming was the host and producer behind Secondcast, a SL-themed podcast. The free-wheeling shows host a variety of residents within SL. Johnny also edited, cut, and mixed the show to give it a professional polish. In addition to Secondcast, Johnny also produced audio for The Goods, Metaverse Sessions, Second Life Town Hall meetings, and the Second Life Future Salon.
Johnny was an employee of The Electric Sheep Company, but left the company for unknown reasons, He was the Director of Business Development and also the Executive Producer. As of now April 2010, Johnny is one of few Secondcasters to remain semi-active on the grid, Walker Spaight and Lordfly Digeridoo were the only two others to remain.
Johnny continues to contribute to the internet at his blog, John Swords' Web Blergh , covering topics such as technology, internet development as well as the occasional post regarding Second Life.