Jurassic World: Dominion Dominates Fandom Wikis - The Loop
Play Sound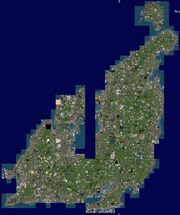 Overview
Jeogeot (also known as the Korean Continent and Bodem) is a Linden Lab-Managed Continent. It is by Spring 2019 NO LONGER one of continents isolated from other continents, like Zindra and the Premium Continent.
With the growing new Linden continent Bellisseria (located between Sansara in the north and Jeogeot south of it) a link was established, which closed the gap between Jeogeot and Sansara/Heterocera). Long distance flight and boat tours now are possible.
Geography
Traversed by Routes 9 and 10 and the Wellington Road. For a map and more information go to Second Life Road Network Directory .
History
Some of the earlier Geographers refer to this land mass as Bodem
Regions
Sims
Haean
Hyojong
Jelloab
Jeolla
Jinseok
Jirasan
Juho
Jumeoni
Juwangsan
Rason
Seomna
Seoraksan
Sokri
Songnisan
Tammora
Tong
Yongma