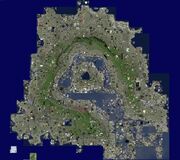 Heterocera Atoll was first hinted on the Experience page (login required) on the Second Life website in early February. The famed explorer Magellan Linden reported on his activities through his blog, The Magellan Linden Chronicles.
The explorations resulted in a new continent arising in the afternoon of March 22, 2005. Magellan Linden's last blog entry was on April 1st, 2005, but the expansion of the continent went on without his travel logs. The landmass was completed in early December 2005 and resulted in the continent being nearly as large as the original southern continent.
In late 2006, an independent school of geographic recording, unaware of Magellan Linden's earlier effort, applied the unofficial name "Dualatoll" to this area.
Heterocera sits generally west of Nautilus and north of Sansara.
| | |
| --- | --- |
| # of Sims | 443 |
| Create Date | 22 March 2005 |
| Max Elevation | |
| Min Elevation | |
Links
Geography
Although lacking the diversity of Sansara, Heterocera is home to several diverse geographic and climatic regions. From the watery areas of the delta through the broad plains sweeping across the southeastern slopes and leading up to an impressive mountain range, the Atoll provides significant opportunities for residents.
History
Over the later part of 2005, this continent became home to many of the "Second Life Second Wave": those residents who learned of Second Life from real life media stories, as opposed to word of mouth referrals from the aboriginal residents.
Points of Interest
Griefer containment pond

Hyles Swamp Infohub

Second Life Railroad
Regions
Eucalyptus Heights: The sims which form the lower crest of the ridge in the center of the outer atoll.
Hierboven: The water sims north for the outer lagoon.
Upper Delta: The water sims east of the outer lagoon.
Lower Delta: The water sims south of the outer lagoon and the southern part of Dualatoll.
Hellingzonnige: The large alluvial plain on the south western area of Dualatoll.
Hieronder: The coastal sims bordering the southern shores of the outer lagoon.
Dekant: The ocean sims on the western edge of Heterocera, running from above Hellingzonnige north.
Catawba: The uplands between Dekant and the outer lagoon. Geographical twin to the Eucalyputus Heights area to the east.
Koudehelling: The plain covering the northern band of Heterocera.
Sims (as of 3/26/06)
Abraxas

Achemon

Achlya

Acrea

Adscita

Agapema

Agirus

Aglia

Agriopis

Agrius

Albata

Albipectus

Albulata

Alcis

Algira

Alleni

Alompra

Alope

Ambrosia

Ambulyx

Amella

Amplypterus

Amydria

Andraca

Anilis

Aplasta

Apoda

Arches

Asella

Astarte

Astylus

Athetis

Atropos

Austroplacida

Azalea

Bagworm

Baileya

Bedstraw

Behrii

Bella

Bembecia

Berbera

Besma

Bhaga

Bhima

Biston

Blanda

Blush

Bombyx

Bouraq

Brauni

Brindle

Brithys

Brocade

Buff

Burnet

Burnet

Burns

Busiris

Cabera

Calleta

Campanula

Campion

Carmine

Carolina

Castaneae

Catalpa

Catax

Catocala

Cecropia

Celerio

Cepphis

Cerisyi

Cerura

Charissa

Chiasmia

Chinati

Chiron

Cilix

Cincta

Cisseps

Cisthene

Citrago

Clanis

Clearwing

Cleora

Colona

Concinna

Congrua

Consular

Cosmet

Cossus

Crameri

Crenulate

Cristat

Cryphia

Cyclops

Cycnia

Cypa

Dagger

Dahana

Daphnis

Datana

Deltote

Denrolimus

Dicycla

Didugua

Dierli

Diloba

Dimidiata

Drepana

Drinker

Dryas

Drymonia

Dubia

Ear

Echo

Eggar

Egira

Electra

Elibia

Ellida

Ello

Elpenor

Emmelia

Engrailed

Enyo

Epilais

Epione

Epirrhoe

Epirrita

Erminea

Ethmia

Euclidia

Euryalus

Euthrix

Euxoa

Euxoa

Falcaria

Falcata

Feltia

Ferox

Fillip

Fishii

Foxglove

Fraxini

Fucosa

Gabara

Galiata

Gallii

GameDev1

GameDev2

GameDev4

Garuda

Gemella

Gemmed

Geometer

Gibbosa

Gilvaria

Girdler

Gluphisia

Goodelli

Grahica

Griffin

Grote

Gunda

Hagen

Hantu

Haploa

Haworth

Hecta

Hector

Hemaris

Hepialus

Hera

Herald

Highflyer

Hirtaria

Hooktip

Horisme

Huckleberry

Hummingbird

Humuli

Hydrangea

Hyles

Hyppa

Idaea

Idia

Immidae

Imperial

Increta

Isabella

Istar

Itame

Jodis

Jota

Juanita

Jubata

Kama

Knot

Laelia

Lajonquierea

Lanestris

Laothoe

Lapara

Lappet

Lasiocampa

Leafminer

Lebeau

Lebeda

Lemonia

Lida

Ligdia

Linda

Lineata

Loepa

Lonicerae

Lota

Loti

Lugubris

Lunalis

Lunaris

Lunata

Lunula

Lupulinus

Lutestring

Lutra

Lyonet

Lythria

Macaria

Maculata

Maia

Malacosoma

Manduca

Mantle

Marumba

Melanthia

Menophra

Metanastria

Mi

Miata

Minoa

Misogada

Mocis

Modest

Modesta

Moma

Monema

Moneta

Mormo

Morrison

Moth

Mournful

Mullein

Muralis

Murinata

Muslin

Myron

Nadata

Nefrax

Nerice

Nessus

Neumoegen

Nitida

Nolidae

Notata

Notha

November

Nuttall

Oakworm

Obscure

Ocellata

Ochreous

Oculea

Odezia

Or

Orache

Oslar

Owlet

Pachylia

Pandorus

Paranthrene

Paratrea

Parce

Parva

Patagonia

Pavonia

Pawpaw

Peach

Peacock

Perizoma

Phasma

Pheosia

Philereme

Philudoria

Phyllira

Phyllodesma

Picus

Piegler

Pigra

Pinastri

Pini

Plano

Plusia

Poecila

Polia

Polkadot

Promissa

Pruetti

Pruni

Pryeri

Pug

Putnami

Pyri

Pyrina

Pyrrhia

Quaker

Ranunculus

Ribeata

Riddings

Ridens

Rivata

Rivula

Rivulet

Rosieri

Royal

Rubi

Rustic

Sabra

Sabre

Sabulella

Sagittata

Sallow

Samia

Sandra

Satellite

Saturnia

Satyr

Scape

Schizura

Scoopwing

Sedge

Selenia

Seraphim

Serpentata

Sesia

Severa

Shark

Shipton

Sibine

Sikkima

Sinica

Siona

Slosser

Smoky

Snout

Sociaria

Solariam

Spangle

Spectacle

Specter

Sphinx

Spinach

Spini

Spiny

Sponsa

Sprawler

Stout

Suduffco

Sundana

Supernova

Sweetbay

Sylvata

Sylvia

Sylvina

Taeniatum

Tamsi

Tawny

Tecta

Telea

Tenera

Tersa

Tessellata

Tethea

Thera

Theretra

Thetidia

Thyatira

Thyris

Tiger

Timandra

Tiretta

Tischeriidae

Togata

Torva

Trabala

Trifolii

Triphosa

Tuliptree

Turnip

Tussock

Tyta

Ufeus

Undulosa

Urdu

Valerian

Varnish

Vashti

Velda

Velox

Vestal

Viciae

Vine

Vinula

Voti

Wainscot

Walnut

Wasp

Wauaria

Waved

Webworm

Wolof

Woolybear

Xanthorhoe

Yucca

Zale

Zephyr

Zeuzera

Ziczac

Zygaena