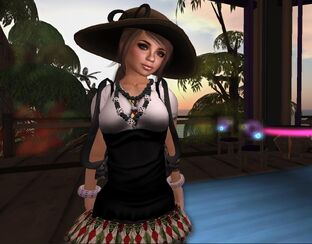 Owner of Club Eutopia Night Club and Beach along with Vetements et plus.
Also owner of island sims Eutopia, Eden, Epic, Krakatoa and London Town.
Folland began her SL on 1/30/2008. Shortly after this she approached Sin Kovacs, the owner of Carthago, wanting to rent out Bennet Carter's former plot in front of 'Desire Fashion House', a popular fashion store owned by Fenny Ferraris and Sisley Laville, to build her club, Eutopia. She, even being a new resident, saw the potential of the popular position of the plot. When Ferraris eventually purchased his own simulator, Ciudad Deseo, Kovacs decided to redesign Carthago and Folland was offered a much larger plot for her planned beach/club. When Carthago re-opened the 15,000 sq.m club and beach was a huge success. As Carthago came to an end, Folland offered to buy MichaelRyan Allen's simulator, Dugley. Kovacs offered Folland Carthago's sim plan, hoping that the layout which had brought success to Carthago would have the same effect on Folland's first simulator, Eutopia.
Shortly afterwards as Desire Fashion House began to disappear, Fenny Ferraris offered Ciudad Deseo to Folland. Fi Folland bought the sim from Ferraris and thus London Town was established, a sim built with cobble stone streets and other quintessentially British features such as the red phone booths.
Eden was Fi F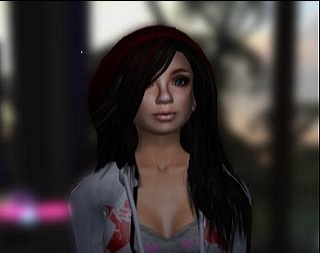 olland's next acquisition.
Alex Harbinger
had already sold his
Alcove
simulator to GothGirl Demonia, but had yet to find a buyer for it's sister sim,
Eden
. Folland purchased the sim, hoping to restore it to its former glory as a peaceful nature sim as it was under the control of Harbinger's girlfriend, Lucky Figtree, and close designer friend, Heather Quasimodo.
Emporer Spitteler, having been inactive for quite a while, offered his sim, Destiny, to Folland in early 2009. Fi Folland purchased the sim and turned it into an island-styled simulator, featuring a huge volcano (which eventually was removed) and small islands which were rented out to TSL residents. She named it Krakatoa.

Epic is Fi Folland's latest edition to her empire. The simulator was formerly named Haven and owned by Hunter Trommler, who had purchased it from Puck Rinkitink when it was known as Leviathan. Haven had been rented out to Sin Kovacs for a little over a month before Trommler reclaimed it for personal use, to build an army base. For unkown reasons, Trommler chose to sell the sim to Fi Folland very quickly after Sin Kovacs was removed as renter and manager of the sim. Epic became one of Folland's most successful sims and has a very urban theme to it. Since Epic was established, it has taken a turn downwards and lost it's popularity, until DylanRyan Faith started Club Eros on Epic land, and since then, Epic has taken off for the best, and continues to succeed.