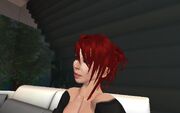 Edith Nyoki is a SecondLife Wikia contributor, and a five and a half year resident of Second Life, She originally entered Second Life under the account Molly Kuhn, but had decided to start with a fresh account in Early 2010.
Ediths' Second Life interests including building and interior design. Her home sits atop a 2048sqm parcel in the Ephant simulator.
Real Life
Edith is a real life resident of the North East of England in Real Life, She was born in late 1991 in a Central London hospital.
She is a real life Graphic Designer and Small Business Consultant, She is a member of the Thirty Nine Cooperative, and currently heads the Virtual Development side of Thirty Nine's Business Offerings, yet most of her SL time is dedicated to personal doings, as opposed to Business Dealings.