Resident land owner and Analytical Engine Smith of Caledon. CoyoteAngel runs the House of Wu land holding group.
[Image: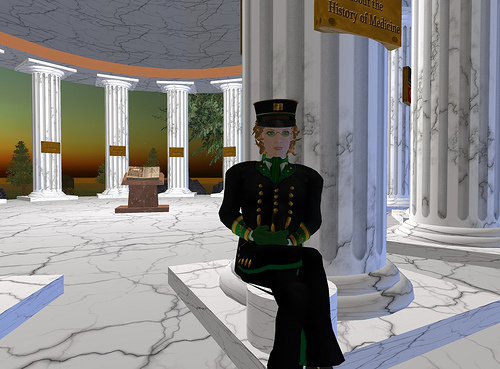 At the Temple of Health, built for the American Cancer Society Relay for Life 2007]
CoyoteAngel is also sometimes sighted in the skies piloting iron airships powered by cavorite.
Her texture work can be seen in the sim textures used in the original build of Caledon SteamSkyCity. Nearly all of her prim and texture work is available in free-as-in-beer, full-permission versions. Of special note is her discovery of a means of creating off-sim mountains in the void sea using sculpted giant prims. These unreachable ranges can be viewed in the seas off Lovelace and Caledon Primverness.
She is the titular Duchess of Caledon Primverness, which is maintained as a public park and gathering place. The original four duchies of Caledon were Lionsgate, Loch Avie, Carntaigh, and Primverness, were the first four void sims to be added to Caledon.
She is the owner of Lovelace Over the Sea (sim name: Lovelace), which is her laboratory and country home. It is also the location of the First Unitarian Universalist Church of Second Life.
She maintains a collection of inworld screen shots on [Flickr]
In real life, she is a software developer, musician, and practitioner of the Love that is Apparently Incapable of Speaking Its Name.
Known Groups
House of Wu

First Unitarian Universalist Church of Second Life