| | |
| --- | --- |
| This resident is an Administrator of Second Life Wikia. | |

CodeBastard Redgrave, nicknamed Codie, is a SecondLife resident and virtual photography artist better known for her infamous Boudoir Rouge series, picturing influent women in SecondLife. She is also a scripter, creator of the MachinimaCam inworld camera system. She also sometimes creates artsy machinima movies.
A social butterfly and web media whore, she manages and maintain multiple links to the SecondLife community through her blog, Plurk, Twitter, Flickr groups and the like.
Codie was involved in the SL5B assisting the art team, is involved on the Avatrait Council Board, an independant board that brings the artist's perspective to the Avatrait Gallery, and also got to be judge for one of Koinup's machinima contests. She is a SL Wikia Administrator and a (very lame until now) community manager for the SL Wikia.
She also manages the Rouge group of islands, home of the infamous Rouge sim where she organizes social events, meetups and sexy partys.
Machinima
Mid 2007, Codie produced a machinima movie called Beauty is only skin deep. The video gathered over 8500 views on her YouTube and many more on Koinup, Blip.TV, Archive.Org, Machinima.Com and other machinima showcase sites.
Beauty is only skin deep - YouTube Low Quality
Beauty is only skin deep - Archive.Org High Quality Windows Media (download)
The Boudoir Rouge series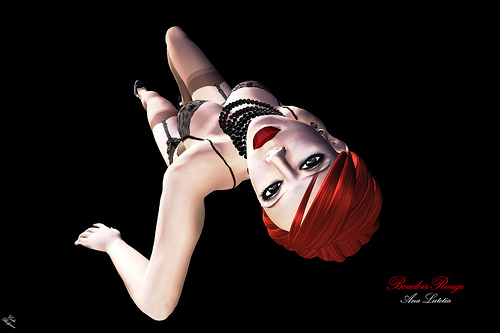 On the 22th of January, Codie published what is considered to be the first official picture in the Boudoir Rouge series, a picture of popular model Ana Lutetia. Many well known SecondLife personalities followed making it one of the biggest series of the genre. The series now contains 66 pictures, with about 20 more incoming. The series has not come to completion yet.
To me, in creating such beautiful content by capturing the beauty of the real interface to our world — the avatars we have painstakingly crafted and lavished so much care and love on — Codie's series embodies much of the double essence of Second Life. — Rheta Shan
Community content is available under
CC-BY-SA
unless otherwise noted.