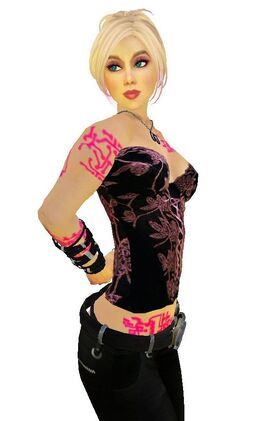 Amanda Shinji is a Second Life DJ, Club Owner and Fashion & Accessories Designer. She created a number of very interesting cars for the Pontiac Second Life set of sims when they were online. She also is an active blogger.
Amanda was also the builder, co designer and owner/manager of the Parkade club, one of SL's oldest clubs, opening in September 2006 and closing in March 2009. After Parkade, she has moved on to become one of the owners of the SL superclub Republik, located on the NuRepublik sim. As well as the usual roster of DJs, Republik is the host location for the ever increasingly popular BootieSL nights which take place every 2nd and 4th Saturday of the month, as well as the all-girl parties under the Candy Girls name. Amanda is also a resident DJ there on Thursdays (3-5pm SL) under her DJ moniker Miss Cyberpink.
Her SL interests include the club scene (natch), DJing, motorsports and car culture, as well as content creation. Amanda is an active lesbian and is the fiancé of Sable Sunset, another co-owner at Republik. Amanda is currently designing and building a new club clothing store for the NuRepublik sim and will be one of the designers featuring in the new 'Rublik' store upon it's completion.
Amanda is also something of a car enthusiast and has a collection of bikes and cars in SL that'd give Jay Leno a run for his money.
She's easy to spot around the grid as her pink circuitry tattoos are sort of an unofficial trade mark, plus she's pretty much always dressed in either black, white or pink (or a combination of all three).
Amanda was born in SL on December 6th, 2006.
External Links
Beats n' Pieces (Amanda's Blog)
This Second Life Wikia Article is a stub! You can help everyone by expanding it!
Community content is available under
CC-BY-SA
unless otherwise noted.