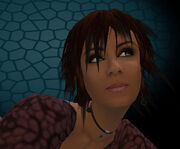 Alanagh Recreant is also known under the digital tag of metaMeerkat and is recognised for her efforts to bring Africa to Virtual Worlds.
Bio
Alanagh Recreant (March 30 2007) is the founder of metaAfrica(TM) - a project that focuses on African content development and exposure to African realities. The project is document in a blog hosted by Alanagh as Africa in Virtual Worlds and is hosted on four islands in Second Life (R) with VIRTUAL AFRICA as entry point. She is also the Executive Director of Uthango Social Investments, a national nonprofit organisation in South Africa. Alanagh has been the first visible avatar to actively pursue access for Africans to virtual worlds since early 2007 and started out by building a pro-Africa community linked to the educational, nonprofit, business, entertainment and arts sector inSL. With little content available at the time, she set out to inspire builders to create fauna, flora, fashion and art to add to the Virtual Africa project.
Builds
Virtual Africa, an immersive African savannah complete with AI animals and unique fauna.
Robben Island, adjacent to Virtual Africa and hosting African projects and groups in Second Life - as well as various projects in Africa.
Press coverage
The efforts of Alanagh Recreant, Enakai Ultsch (the co-founder of Uthango)and the rest of the team are well documented in the press:
Related links
This Second Life Wikia Article is a stub! You can help everyone by expanding it!