History
ANWR is one of the sims added on March 22, 2005 as part of Heterocera. Along with Cyclops, Suduffco and Sandra, it forms the narrow strip of ocean that connects the main continent and the northern continent. The name is a reference to the Arctic National Wildlife Refuge.
Landmarks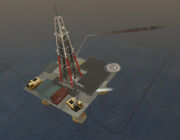 ANWR contains a large Linden-owned structure designed to look like an oil rig, and a pipeline that connects to the northern continent. However, the rig does not pump oil, but sources basic cube prims. It was part of an experimental initiative to add some 'flavor' to Second Life by introducing the Magellan Linden character. The rig was supposed to pump out 'primoleum' which explained why the region that connected to it had double-prim allocation.
Community content is available under
CC-BY-SA
unless otherwise noted.